On July 12, 2016,
Weichai
Power held a WP130,000 engine off-line ceremony at its Lanqing Production Base No. 2 plant.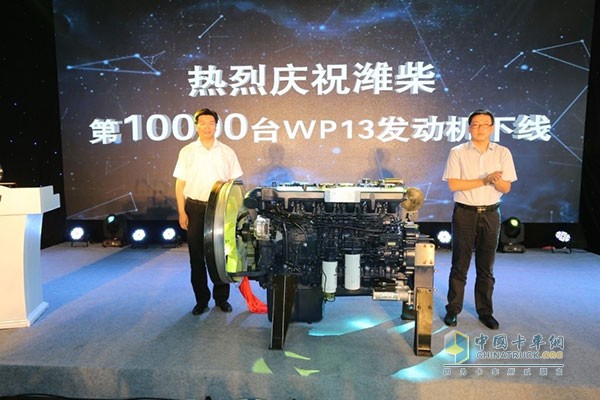 WP13 million engines off the line ceremony
WP13 is a high-reliability, low-fuel-consumption, safety-environmentally-friendly and high-powered engine specifically designed for the road freight market in 2015, and it has become a large-scale engine with its superior power, economy, fuel economy, reliability, and comfort. Horsepower heavy truck matching preferred, then sales exceeded 5,000 units, has now become the first domestic market sales exceeded 10,000 units of 13L power products, in the 480-horsepower heavy truck market accounted for 53.72% share, ranking first in the high-power tractor market first.
As a leading company in the national internal combustion engine industry, Weichai has ploughed into the engine field for 70 years. Weichai Engine has formed a unique high-quality DNA. This kind of DNA ensures that Weichai always provides its customers with the most cost-competitive, most technologically competitive and most competitive engine products. Tan Xuguang, chairman of Weichai Group, proposed at the beginning of the corporate science and technology innovation conference at the beginning of the year that it is necessary to create the best products in the world and move toward the high end. Weichai engine products must fully benchmark the international leading standards, establish a first-class quality, performance, and technical index system, achieve all-round improvement, advance to the high end, and call the Weichai brand globally. The WP13 engine product bears the dream of Weichai moving toward high-end.
The WP13 engine not only integrates the Weichai engine family's traditional advantages of high reliability and power enough, but also perfectly integrates the "people-oriented" concept and product, achieving the "three lows and two highs" of the engine, enabling low engine fuel consumption and low noise. The new era of low maintenance difficulty, high maturity, and high after-sales service efficiency helps customers achieve greater value.
"Reliable and durable" is the basis for the success of the Weichai WP13 engine
Data show that in the first half of this year, the sales of heavy trucks were 337,900, an increase of 14% year-on-year, of which sales of heavy trucks supporting engines of more than 400 hp doubled, indicating that high efficiency and intensification have become development characteristics of logistics and transportation. The original users of small and medium-displacement, low-power tractors generally choose to purchase large-displacement, high-horsepower products when updating vehicles.
The transformation and upgrading of the logistics transportation market has provided Huiceng WP13 engine with a huge space for development. For Chinese logistics customers, choosing the Weichai WP13 engine means that both high efficiency and economic indicators can be taken into consideration.
Tan Xuguang stated that Weichai, which has been deeply cultivating 70 years in the internal combustion engine industry, can deeply understand and effectively meet the needs of Chinese customers and accurately grasp and lead the development trend of the industry. Weichai Power proposed that "reliable and durable is the core demand of heavy-duty engine users" and that "reliable and durable" will be the core advantage of Weichai Engine's products and it is highly recognized by the market.
In April 2016, Weichai Power further proposed that the life standard of Weichai's heavy-duty engine B10 be raised to 1.8 million km/30,000 hours. This standard has reached the international advanced level and meets the requirements for the use of domestic trunk and long-distance logistics transportation in the future.
With more than 80 heavy trucks, He Zhijun, a Henan Wushu customer, is a loyal user of Weichai products. The WP13 engine has greatly improved its transportation efficiency with stable and outstanding performance. "Extended to 1000 r / min maximum torque speed, so that the vehicle's climbing ability has reached a new height."
Zhao Lei of Henan Boai is a loyal user of Weichai. In his opinion, Weichai WP13 has high reliability and low failure rate. "And the vehicle's fuel consumption is very good. The combined fuel consumption per 100 kilometers is only in the range of 35 to 36L."
The same is a large logistics customer, Yao Jianwei believes that the long slope line match Weichai WP13 makes the vehicle just whispered with a light click of the throttle. "More than 20 units of the DeLong X3000 gold version of our unit have a high attendance rate. There is no one car that has thrown anchors and no delays in the company's transportation."
State Key Laboratory of Internal Combustion Engine Reliability for Weichai Power
As the best engine builder in the domestic engine industry, Weichai Power also established the only national key laboratory for internal combustion engine reliability in the industry, which can cover the reliability of the entire engine, the reliability of key components, reliability prediction, and Assessing the scope of technical research and other areas, the overall level of its experimental equipment has reached the international advanced and domestic leading level, and it can meet the needs of research contents such as the reliability of the entire engine, reliability of key components, reliability prediction and evaluation.
The WP13 is a masterpiece nurtured by the laboratory, with an average fault interval of up to 250,000 kilometers and a B10 life of more than 1.8 million kilometers. The power range covers 480HP-605HP and the maximum torque is 2550N • m, which has reached the international advanced level of engine power with the same displacement, to meet the future power requirements of heavy vehicles.
WP13 has a compact structure and strong adaptability. With frame type body and dry liner, it can withstand higher load impact. In addition to water, it is safer to filter, heat, remove, and empty air, which is more stable than single-component systems. Vehicles fitted with WP13 engines perform well under extremely cold conditions. Even without assistance, vehicles can be started directly at -15°C. With preheating, they can be started smoothly at -40°C. Even at the altitude of 4,700 meters above sea level, vehicles can be used normally.
Weichai Power has always insisted on providing customers with the most competitive engine products for many years. Many technical indicators of the WP13 engine have reached the industry-leading level, and its excellent performance not only meets the basic commodity demand of customers, but also leads the development trend of domestic heavy-duty engines and promotes the upgrading of China's road freight vehicles.
Changchun Taiyuan fluoromica Co. Ltd. is located in Changchun high tech Industrial Development zone. It is a high-tech economic entity integrating scientific research, production and management. The company has a strong technical team. There are 1 senior experts and doctoral tutors who have been engaged in artificial lens research for more than 20 years, 1 postdoctoral researchers engaged in nonlinear control research, 1 researchers engaged in inorganic material research, and several senior engineers and engineers engaged in research of related specialties. Strong technical force has laid the foundation for the development of the company in the field of new materials.
To meet the needs of national industrial development, the company has been devoted to the research and development of fluorite mica and its products in 2004. The product is a new material with high temperature resistance, corrosion resistance, low dielectric loss, high volume resistivity, absorption of multi band beam and good transmittance of light. It is transparent, separable, elastic, aging and fragile. It is mainly used in the working environment of electric insulation, neutron test, high frequency medium, high temperature vacuum, high temperature and high pressure, strong acid and strong alkali. It can be used as a substitute for low performance materials such as polytetrafluoroethylene, natural mica and quartz glass.
Our company warmly welcome friends from all walks of life to visit, hope you know the fluorite mica and the use of fluorite mica. Our company will provide free test supplies for scientific research personnel in the high-tech field.
Taiyuan company spirit of "harmony, modesty, pragmat
Mica Sheet,Artificial Mica Sheet,Synthetic Mica Sheet,Thermal Mica Sheet
Changchun City Taiyuan FluorphlogopiteCo. Ltd. , http://www.micaslice.com