On March 16th, 2015, Kunlun Tianwei organized by Kunlun Lubricants Co., Ltd. officially launched the large-scale road show "Nothing's Nothing" - Discovering the most beautiful life roads in Lin'an Logistics Park in Guangzhou, which is Kunlun. Lubricants first tried a brand promotion model.
All along, Kunlun Lubricants has not only provided truck drivers with high-quality lube products, but also helped them achieve the goal of "cost reduction and efficiency increase" while continuing to implement the concept of "caring" for them. Life brings love and care.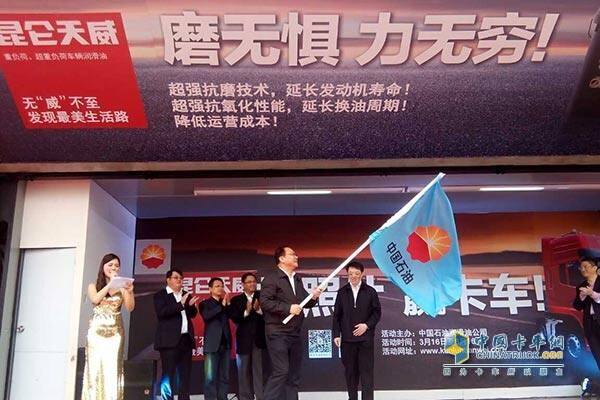 Kunlun Lubricants Promotion Site
Responsibility: Caring for every truck driver with a good life attitude
With the rapid economic development, China's truck ownership has ranked first in the world, and truck drivers have also become an integral part of the social development chain. They shoulder the heavy responsibility of the city's energy and materials circulation, as if it were to deliver oxygen to the national economy. Red blood cells." Despite the hard work and irregular schedules, truck drivers still harbor a desire for a better life.
In order to build a platform for truck drivers to display themselves, Kunlun Lubricants has added a "photo shoot, win truck" interactive campaign to the road show to allow more truck drivers to showcase their unfamiliar aspects of life and work. Give them a chance to win a truck worth 400,000 yuan. It is not difficult to see the good intentions of Kunlun lubricants.
The event lasted 65 days, starting from Guangzhou, passing through 26 cities including Chengdu, Tianjin, Wuhan, Hefei, Zhengzhou, and Qingdao, with a total distance of 14,200 kilometers. This is the actual action of Kunlun lubricants to evoke more people to trucks. The driver's concern and love will inspire the truck driver to become self-reliant and create a better tomorrow.
Product: "Cost reduction and efficiency increase" for truck drivers
As we all know, in the truck transportation, "Dora Run, the pursuit of efficiency" is the driver's consensus, but this requires transport tools - trucks to maintain a good state. Kunlun, as a leading company in the lubricants industry, also demonstrated Kunlun Tianwei, a product developed with innovative technologies, which was developed by Kunlun Lubricants for commercial vehicle oils such as trucks, including CI-4. , CH-4 and other diesel engine oils, GL-5 and GL-5+ heavy duty vehicle gear oil, MTF-18 manual transmission oil and other products.
It is understood that Kunlun Lubricant's newly introduced GL-5+ is the only proprietary formula technology that has won the National Invention Award in the lubricant industry. It has superior thermal oxidation stability, abrasion resistance, and low temperature fluidity. It is used to lubricate the drive axles of all types of heavy-duty trucks and heavy-duty trucks, and is especially suitable for the lubrication needs of heavy-duty/over-heavy duty trucks with a load capacity of over 20 tons. In order to verify the superior performance of GL-5+, Kunlun Lubricants cooperated with commercial vehicle enterprises including Foton, Hongyan, Dongfeng, FAW, CNHTC and Nanjing Iveco to implement steep slopes, steep bends, and large elevation gaps on the roads. With 100,000-kilometer road assessment tests, the GL-5+ exhibits excellent extreme pressure abrasion resistance and thermal oxidation stability, which can protect heavy trucks at low speed and heavy load (climbing) and high-speed impact (sudden acceleration and deceleration at high speed During driving under high torque and severe working conditions, there will be no gear teething, gluing, or peeling of gears, preventing the formation of sludge and deposits and keeping the tooth surface clean. It is worth mentioning that the GL-5+ will increase the oil mileage to 100,000 kilometers, which is more than twice that of ordinary vehicle gear oil under the same conditions; and the cost of replacement is much less than that of ordinary GL-5 replacement more than two times. the cost of. It should be said that GL-5+ not only reduces the environmental pollution caused by waste oil discharge, but also significantly reduces the user's maintenance costs and increases the vehicle's operating efficiency.
In addition, CI-4 heavy-duty diesel engine oil adopting international advanced formula technology meets the severe wear resistance requirements of most engines, maintaining engine power at various pressures and temperatures, and strong soot dispersion performance can provide superior performance. The engine cleanliness to prevent piston deposits, even in the case of high smoke can still provide comprehensive protection of the engine; higher lubrication stability, can extend the oil change cycle to 30,000 kilometers, thus ensuring long-term, efficient operation of the engine; meet the country The lubrication requirements for IV, Euro IV, and Euro V emission standard engines (except for the use of particulate trap DPF) are applicable to high-speed, heavy-duty, environment-friendly turbines, diesel engines, and construction machinery equipment.
Brand: Committing promises with practical actions
Caring needs to be continuous, and touch needs to touch the soul. While continuously deepening brand building, Kunlun Lubricant always strives to provide customers with the best quality products and the most professional full-service. In the view of Kunlun Lubricants, care should not be a single level of care, but should be a comprehensive care, which will not only include the spirit level, but also include products and services provided for truck drivers.
As a leader in the national lubricants brand, Kunlun Lubricants continuously enriches and extends the business strategy of the "Five-unified, one-centralized" business with new innovative concepts and innovative spirits, and gradually forms a competitive business in the domestic and international lubricants markets. Advantage. At the same time, we will vigorously adjust the product structure, gradually establish a marketing network with a rational layout, a clear hierarchy, and effective operation, and gradually infiltrate into the market terminals, striving to convert the resources advantages of Kunlun Lubricants into market advantages and benefit advantages. Through continuous enhancement of sales network, sales, management, information, and services, we will strengthen the awareness of service and integrity of all employees, and use actual actions to realize the promise of "good quality, variety, and excellent service" to consumers.
Ecohydraulic forward-out baler has been used by many customers to press non-ferrous metals, such as used beverage cans (UBC), scrap aluminum chips, scrap copper chips etc. So it is also called tin Cans Baler, aluminum chips baler, metal chips baler, aluminum powder baler etc. Forward-out aluminum Balers are widely used by recycling centers due to their efficient and proficient working mechanism. The larger aluminum can baler models can be customized to compress metal leftover, steel shavings and steel scraps. Furthermore, the optional manual and automatic control systems of the cans baler enable the automation of machine and allow the manual use as well.
Forward-out Baler, Forward-out Baling Machine, Forward-out Baling Press, Forward-out Baler Equipment, Forward-out Metal Compactor
Jiangyin Metallurgy Hydraulic Machinery Factory , https://www.hydraulicn.com